Is dating not going as well as you'd like?
Or maybe your partner doesn't like giving blowjobs as much as you enjoy receiving them?
Sure, you can use your hand or an old-style hand-operated sex toy, but moving something up and down over and over again on your dick is boring, and you're the kind of guy who is open to trying something new! Here are several the best sucking machines that you ever have dreamt!
The top of the sex toy rating is hired by the Autoblow A.I. This intelligent mechanism will make you get a supersensible orgasm
In second place is Max 2, then Stoya by Fleshlight, which will provide you with many levels of vibration and suction settings
F1s Developer's Kit Red by Lelo and Onyx 2 took the following places, but their abilities will amaze you
1. Autoblow A.I.
Autoblow A.I. is a motorized sucking machine that uses its onboard mini-computer to move its dick gripper and silicone sleeve to any of 250 different positions to give you a blowjob in the most realistic way possible.
First, insert your lubricated dick into the 100% silicone sleeve and then press the play button to cycle through the ten different blowjob experiences.
#
Top Dick Sucking Machines
Benefits
1

Autoblow A.I.


fantasy






CHECK CURRENT PRICE

Autoblow A.I. plugs into any wall outlet and never needs expensive batteries
It's ready to go whenever you're ready to go
The Autoblow A.I. isn't a toy. It's a powerful sucking machine that's built to last

2

Lovense Max 2


unsurpassed






CHECK CURRENT PRICE

It is compressed from all sides at the same time
Powerful vibration
Suction is regulated by an air pump

3

Fleshlight Interactive Sex with Stoya


effective






CHECK CURRENT PRICE

The sleeve texture satisfies the dick from the first seconds of starting the machine
Soft pimples expect a dick at the entrance, and then longer spikes follow
The best design of the machine appearance is so organic in hand

4

Lelo F1s


revolutionary






CHECK CURRENT PRICE

Download the SDK – let your imagination drive you wild
Thanks to the visual element, you can see your pleasure in action on the screen
You can create own waves and track your sensation, skill, and experience

5

Kiiroo Onyx 2


great






CHECK CURRENT PRICE

It hits to 140 times per minute
You can sync with a smartphone and other devices (Bluetooth)
Ten shrinking rings simulating impacts
Every experience delivers a different stroking technique, and there is one special enhanced Autoblow A.I. mode that gives you a different blowjob every time.
Want to finish faster or practice lasting longer?
Adjust the speed between any of the ten different speed levels!
Want to keep yourself in the edge for hours? Use the pause button to pause any blowjob experience, and then press pause again to go right back into the same experience at the same speed.
250 positions
The Autoblow A.I. comes with a textured silicone mouth sleeve, but you can swap it out for a different sleeve with a different texture any time you want.
Replaceable sleeves
Many programs
Durable engine
Easy to clean
And when you're finished, clean-up couldn't be easier. Just pull out the sleeve, spill out any liquid you've deposited inside in the sink!
Spill it in the sink! And rinse the sleeve using soap and water.
Buy the Autoblow A.I. today and enjoy a blowjob wherever and whenever you want one!
There is no equal in the market of sex machines.

It works from the network (110V – 240V), does not require batteries.

Realistic.

Safe.

These sex toys have the best powerful, durable engine.

The engine is half as quiet as the previous model. But in three times is more powerful.

It has a lot of programs for a blowjob.

Sleeves are easy to clean. They are soft for any dick.

Replaceable sleeves are suitable for all sizes of dicks

.
Review
I like the power of this sucking machine while it is quiet.
Sleeves can be cleaned easily, but it is necessary to sprinkle with special powder after washing.
Then the sleeves are best kept.
I also like that it works from the outlet. I do not like batteries. They often have to be changed, which is inconvenient and costly.
The sleeve is realistic, so I will order additional sleeves. One is not enough for me.
On the one hand, Autoblow will never replace you moaning a girl in bed and touching her.
And on the other hand, the sucking machine will not complain of tiredness and refuse you a blowjob. I made my choice and am completely satisfied with it!
2. Max 2 by Lovense
This sucking machine will be an indispensable device in obtaining pleasure!
Blowjob is now provided for you in unlimited quantities!
Unsurpassed
2
You can charge these sucking toys with USB.

Safe.

You can control these toys at long distances.

Seven vibrating stages.

It has several options for squeezing a cock

.

It is not suitable for big sizes of cock

.
Review
I love Max! It is so gentle but so powerful. I like that you are not dependent on the outlet, so I can masturbate in the bathroom.
The thrill of this sex machine is simply breathtaking!
There are so many compression, vibration, and suction options that my dick, I am afraid, will not withstand this pleasure. Lol!
It is perfectly suitable for me, so I can say with confidence that this is the best sex machine for my dick!
3. Interactive sex with Stoya by Fleshlight
You can meet your favorite actress using this sex machine and get to know her from the inside.
3
Famous sex toys brand. More than 12 million sex machines are sold.

It takes up little space.

Heat such toys on a central heating battery or in warm water and sensations intensify.

100% secure order.

It is not suitable for large dick sizes.

There are not many levels of work

.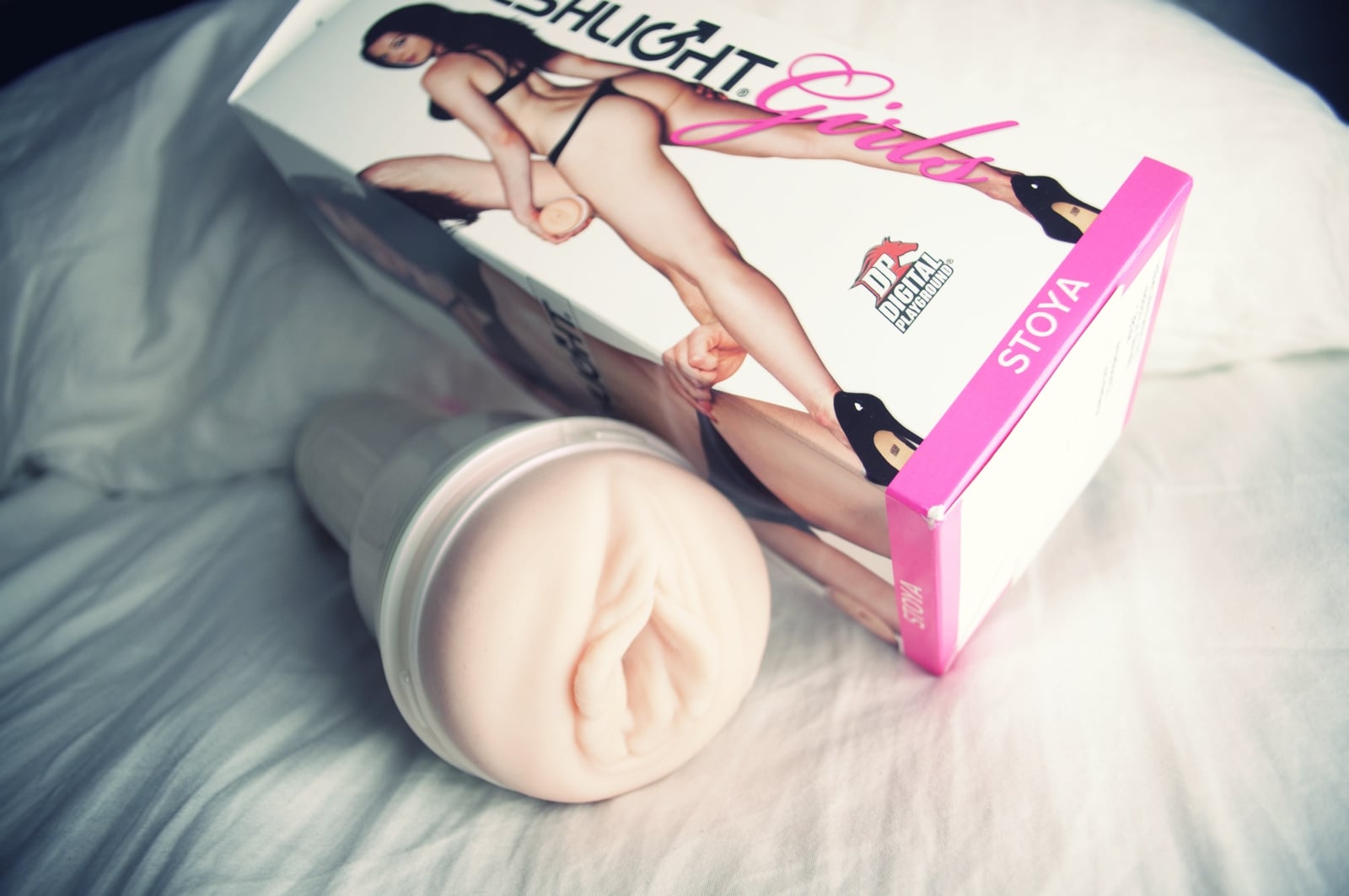 Package Composition
Stoya Destroya Fleshlight.
Fleshlight Launch.
Instructions for use.
Fleshlight water-based lubricant (8.5 oz).
Fleshlube Sample.
Review
This is not my first sex machine, and to be honest, I'm not very happy with it.
There was little description on the site, but I decided to take a chance and bought a sucking machine.
It performs all its functions, but the main problem was that it is small for my dick.
I'm upset, and I have to order another machine.
4. F1s Developer's Kit Red by Lelo
The world's first luxury male Sextech console.
Download the Lelo demo app to preview the possibilities or build your app.
And create own universe!
It is the world's leading pleasure brand.

App-friendly SDK.

Marvelous enjoyment featuring cruise control for optimal intensity.

Game-changing SenSonic technology.

Unreal pleasure featuring powerful sonic waves.

360° panoramic pleasure.

Powerful dual motors.

Ten next-generation smart sensors.

Easy to manage. Can be used with one hand.

Safe silicone sleeve.

Waterproof.

Rechargeable (charge with the USB).

Ten-year quality guarantee.

1-year warranty.

It works for only 2 hours. You need to charge it every time.
You can insert only 4.5 inches. It is not suitable for long dick.
The USB cable is short and takes a long time to charge.
Specifications
Size: 5,63 x 2,8 inches.
Insertable Length: 4,33 inches.
Weight: 0,63 lb.
Review
I bought Lelo goods and was satisfied. Although when I bought, I did not know what SenSonic and SDK are. I took a chance and guessed.
Most of all, I like the way it vibrates and sucks my dick.
And I also prefer to look through the window of a sucking machine, where I can see my cock.
The manufacturer indicates that it is waterproof, but I'm afraid to use it in the shower. I do not believe to the end, I guess.
The only inconvenience is a long charge. I can not approach it for weeks, and then I take it out and understand that it is not charged.
I have to wait for two hours to charge. Then I'm not always ready for masturbation. Either someone is at home, or I have already engaged in other deals.
5. KIIROO® Onyx2™ Interactive Male Masturbator
An interactive sucking machine that can be used both in manual mode and with the help of a phone, computer, connect a webcam and other devices.
Feel how people from the Internet touch and excite you!
Now the distance is not a hindrance for you – synchronize and make love through cities and countries!
Reusable sleeve.

Safe sucking machine materials.

Quiet motor operation.

Easy to clean.

Rechargeable.

1-year warranty.

It takes a long time to charge.

It discharges quickly.

It is not suitable for thick or too long cock.
Specifications
Materials: ABS, POM.
Sleeve: Fleshlight SuperSkin™.
Size: 3,2 X 2,8 X 10.2 inches.
Hole diameter: 1,78 X 1,6 inches.
Internal length is 6.5 inches.
Weight: 2,2 lb.
Charge: to 6 hours.
Time in work: 1 hour.
Review
I like eye contact in sex games. I bought this particular sex machine, as it can be connected to the video.
Before that, I bought some device, and now I watch porn when I masturbate. I can also play at Red Light Center.
I cum in minutes. With this guy, you need to skip the video in the middle to have time to watch at least something! Lol!
I like this sex machine, but it takes a long time to charge. It is not comfortable.
You can observe the operation of the machine through a special window and create own waves and vibrations.
With these sex gadgets, you will make a revolution in your bed!