What do you think about when you hear "a vibrator?"
More than likely, you imagine a silicon dick that girls like to play with.
However, there are a lot of models made specifically for men. Some of them are combined with fake pussies when others look like eggs on laces. They all are designed to make you cum. We introduce you a review of the best dick vibrators available in 2022.
When choosing products, we pay attention to size, color, type of cells, remote control, materials, and so on
There can't be "The Vibrator," each model is useful in a certain manner
Try using different sex devices to find out the best one
1. Interactive Sex with Stoya Destroya
For sure, this sex toy must be number one in the review.
First of all, the name is given after a well-known American porno actress, Jessica Stoyadinovich.
#
Top Dick Vibrators
Benefits
1

Fleshlight Interactive Sex with Stoya


innovative






CHECK CURRENT PRICE

The inner structure of the sleeve is created in the form of several interconnected chambers
Each chamber has specific little massagers — "fangs," made of skin-safe material
Together they provide you with very potent stimulation and leave you no choice but to cum

2

Tenga Zero Flip Hole


flawless






CHECK CURRENT PRICE

Inside there is a strong vacuum due to the use of a one-way valve
The stimulation becomes more intense
Foldable construction allows you to open up the device and clean it carefully after each use

3

Fun Factory Manta


exclusive






CHECK CURRENT PRICE

Six speeds and six stimulation patterns with easy push-button controls allow adjusting vibration intensity very easily
Manta is entirely waterproof, don't hesitate taking it to a bathroom
It works up to two hours on a full charge

4

HotOctopuss Pulse III Solo


incredible






CHECK CURRENT PRICE

It is waterproof and ready for use in any tub
Noise level is less than 55 dB
Pulse III is rechargeable, and it has a USB cable to make the process more convenient

5

HotOctopuss Pocket Pulse


comfortable






CHECK CURRENT PRICE

It is the smallest device of this kind. It really matters if you hide it from your wife
The toy is ergonomic and fits perfectly into any arm
The pocket vibrator can deal with both erected and limp dick
By purchasing this dick massager, you make your dream for Stoya real. Fleshlight International produces all kinds of sex toys, and all of them are elaborately designed to meet your requirements.
Unforgettable experience
The fake vagina orifice is taken from the exact real molding of Stoya's labia. You can naturally feel Stoya's softness and curves.
100% secure
Fleshlight Launch
SuperSkin material
Fleshlube water
The queen of forbidden pleasures
Stoya Destroya is probably the most unusual male vibrator ever.
This dick vibrator would be ideal for intense stimulation fans. Also, it can even serve for post-orgasm tortures — if you and your partner like BDSM.
This model is very tight. If you're not a man with a huge dick and still want to feel the stimulation, Stoya Destroya will be the best choice.
It is the best dick vibrator for Stoya fans. Combine its use with watching her porn films – and you will get an unforgettable experience.
Discreet shipping is available.
Anonymous billing will protect you and your fetish from curious eyes.
More than 12 million Stoya Destroya toys are sold already. It is a sign of high quality.
The sex device is made of skin-safe material that is very pleasant to touch.
Stoya Destroya is suitable for all willies. The last chamber is a nice bonus for men who can reach it.
The texture of SuperSkin material successfully imitates real human skin.
The well-designed inner structure allows massaging all the most sensual erogenous spots on your penis.
You can use Stoya Destroya in a shower without fear.
You'll receive a Fleshlube Water, Fleshlube Sample, Fleshlight Launch, and Operation Manual with the dick massager. Full complect serves for absolute pleasure.
The checkout is 100% secure. You can be sure that the goods will reach your place in safety.

The tightness of the sleeve sometimes seems excessive. The stimulation may look too intense, especially when you're about to orgasm.
It's pretty tricky to clean the sex device because of its complicated structure.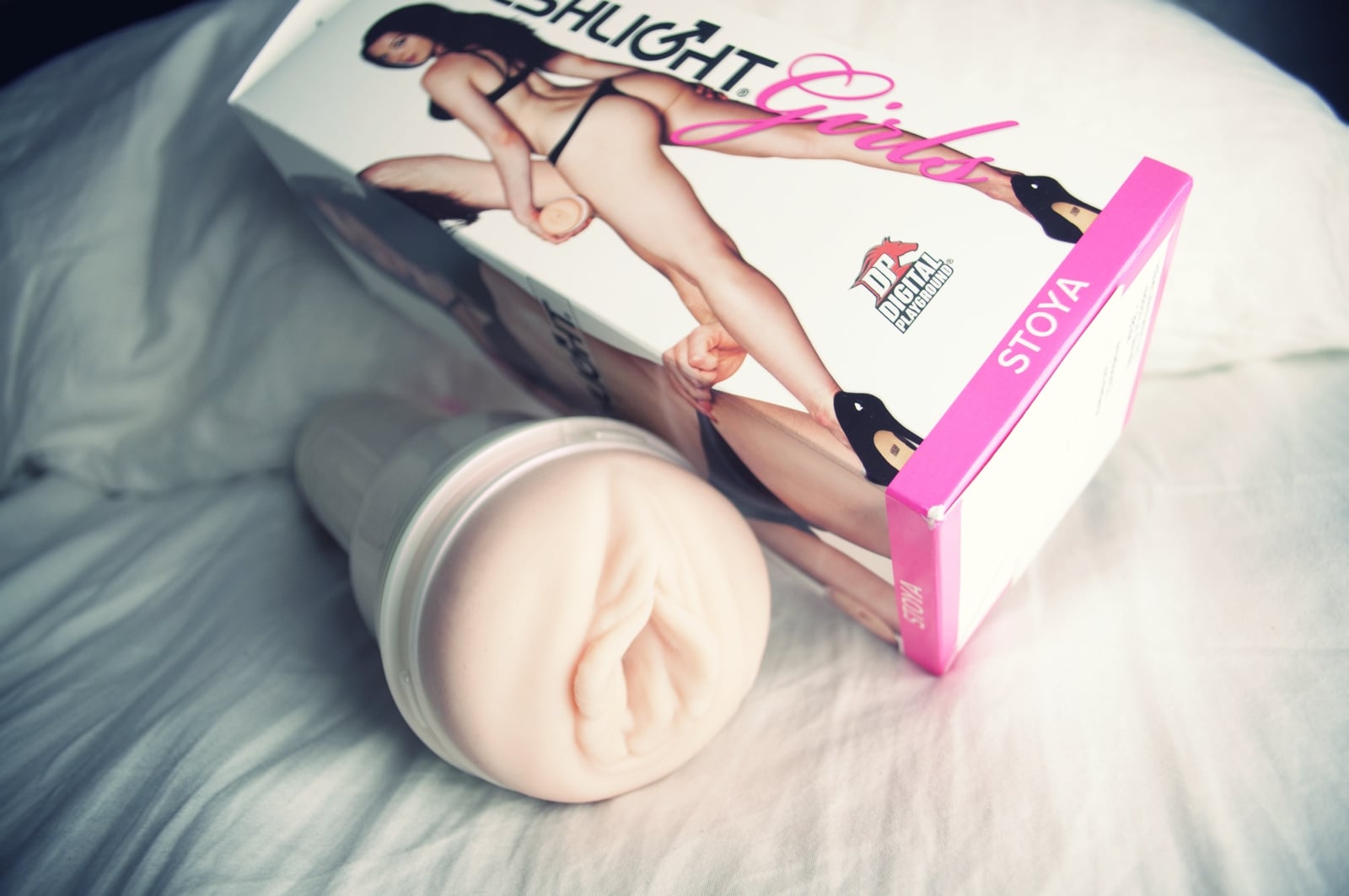 2. TENGA Zero Flip Hole Rechargeable Vibrating Male Masturbator
Tenga is a Japanese male sex toys manufacturer with huge experience.
Since 2005 they've been creating kinky sex machines that are known worldwide.
Flawless
2
TENGA Zero is a new model that was designed to meet all men requirement.
We can say that it does its job really well.
Key features
TENGA Zero has foldable construction. You can open it and see everything inside the sleeve.
The design is stunning and non-standard for dick massagers.
There are five vibration modes, and it is easy to adjust intensity.
The body is semi-transparent. Tou can see the massaging process.
There is a manual pressure pad to tailor suction in the chamber.
TENGA Zero is an innovative dick vibrator with internal textures for strong-yet-soft-stimulation.
There're two stimulation cores. Not a single erogenous spot will be disregarded.

The material is skin-safe and doesn't contain phthalates.

TENGA Zero is rechargeable, so forget about buying batteries.

Lovehoney guarantees discreet shipping in a plain package.

Express domestic shipping is available.

Twelve months guarantee is given when you register with Lovehoney

.

The price is high, as TENGA Zero is positioned as a high-end dick vibrator.

The device is only splashproof, so playing in a tub is impossible.
3. Fun Factory Manta Rechargeable Blue Vibrating Male Stroker
You probably know stereotypes about German porn. Perhaps, there is a piece of truth in them.
German company Fun Factory knows a lot about making fun in bed.
3
For more than 30 years they've been producing sex toys.
One of them – and one of the most commercially successful – is Manta Rechargeable.
Description
The machine has twelve speeds and patterns of stimulation.
Body-safe and hypoallergenic silicone provide you with the best feelings.
The dick vibrator is USB rechargeable and easy-to-carry.
The vibrating device is rechargeable, and USB allows to use it wherever you want.

There is a Travel Lock function for discreet travel without worries.

The unique design fits between bodies for exhilarating couple's play.

Flexible construction makes the use more convenient.

You need to stroke a lot to make the stimulation strong.

As there are only two curved wings, Manta can't stimulate all your spots at one time.

It takes some time to get used how to keep and use it properly, especially after using fake pussies

.
4. Pulse III Solo from Hot Octopus
Brits know how to produce pleasure-makers.
Hot Octopus is a relatively new manufacturer, but they already presented several mind-blowing dick vibrators.
Their Guybrator Pulse III is an excellent example of a new sex toys generation. Appealing and discreet design guarantees this vibrator will suit everyone with a penis.
Why should I buy it?
The vibrating sex device is an egg-like versatile vibrator with a stylish black body.
Pulse III is one of the most powerful sex massagers of this kind.
The device uses a new patented stimulation technology so that it can give you a truly unique experience.
There're five vibration modes with adjustable frequency.
Pulse III is more compact than most sex devices for men. It weighs only 220 g, and the dimensions are 117 x 67 x 72 mm. It's a little bigger with a package.
Pulse III is really discreet, so you can easily store it almost anywhere without worries.

The dick vibrator is fully automatic, just switch it on and give a rest to your hands.

Pulse III is appropriate for stimulation of both erected and flaccid penis. It makes this toy salvation for passionate older men. With Pulse III, the age is not an obstacle for cumming hard!

The silicon body is skin-safe and pleasant.

A magnetic charge is available

.

Li-ion battery is pretty weak, and the device can work for only one hour.

Charging time is almost three hours, so you should be pretty patient.

The sex device is for solo use only, and sometimes it does matter.

There's no remote control option. Such a discreet device would be much better with it

.
5. Pocket Pulse from Hot Octopus
Here we go again with another sex toy from the UK.
Pocket version is even more discreet, and it still has the older brother's strong points.
This one would be the best choice for travelers and business people, as it is very easy to carry Pulse literally in your pocket.
What makes it special?
Total dimensions are 75 x 75 x 60mm, and with a package they are 85 x 85 x 100mm.
Five vibration speeds leave you free to adjust your pleasure.
Pulse Compact is exceptionally light and weighs just 142 g without a package.
Two powerful motors deliver deep and rumble vibrations.
The device is so light that it for sure won't distract you from masturbation.

Pulse Pocket quietness is phenomenal – less than 50dB.

Rechargeability and USB cable make Pulse Pocket very convenient.

The sex toy is very cheap

.

The cells are pretty weak, and the vibrator can work for only one hour.

Charging takes almost three hours, and there's no way to make it quick.

The vibrator is for solo use only.

There is no remote control option.

It is not hands-free.

There is no magnetic charge option

.
FAQ
Sex toys beginners often ask how to use the devices.
In this review, we answer some of their questions.
Should I clean vibrators?
Yes, you must do it after each use to remove all bacteria from the sleeve. Use soapy water.
Can I use lubes?
Yes. Lubricants make the process easier and safer. If there is some friction, you can occasionally harm the skin.
Can I store the vibrating device in a garage where my wife won't find it?
No, you must keep it in a dry place with the cells taken out.