Thanks to the Fleshlight brand, man sex toys have finally hit the mainstream.
That's why, for many people, the brand name has become synonymous with the concept of sexual pleasure.
However, the Fleshlight masturbators are extremely expensive, and those who look for a more decently priced sex toy prefer other brands.
Thanks to the never-sleeping sex toys industry, there is an impressive variety of devices to satisfy any fantasy
Though the Fleshlight brand was not the first to invent or introduce male masturbators to the market, it popularized these toys
That's why many people continue to refer to any blowjob device as the Fleshlight
Are you looking for the best Fleshlight alternative?
If you want to pleasure yourself with the best possible outcome, our review offers five best male masturbators from different brands.
Like the Fleshlight products, they are designed to give the most realistic experience but won't make you bankrupt or deprive of other life needs and delights.
#
Top Fleshlight Alternatives
Benefits
1

Autoblow 2+XT


super






CHECK CURRENT PRICE

Due to the innovative spring-loaded design, the sleeves have a longer lifespan and are easy to handle
They are easily detachable for maintenance and cleaning
And the lifelike material does not require any special washing, just a quick rinse in soapy water

2

Lovense Max 2


effective






CHECK CURRENT PRICE

The series of vibrations and 360-degree contractions roll along the penis and remind a realistic blowjob
The inside lining of the sleeve has a unique texture with bumps and nodules that provide lifelike sensation
When you add vibrations, it doubles the pleasure and intensifies orgasms

3

Thrust Pro Elite Alana


unsurpassed






CHECK CURRENT PRICE

There are two distinct canals to plunge
The design includes all anatomic details of fleshy pussy lips and rounded ass
The texture inside the canals is ribbed enough to provide additional stimulation and friction

4

Doc Johnson Mood Exciter


revolutionary






CHECK CURRENT PRICE

Due to the exclusive formula, the product is hypoallergenic, antibacterial, and stretchy enough to customize to your liking
Each end differs from the other in texture and tightness
An efficient pocket masturbator

5

Tenga Zero Flip Hole


reliable






CHECK CURRENT PRICE

Thanks to semi-transparency, you can watch the penetration
An inexpensive reusable masturbator with a stunning design
One-year guarantee for registered customers
#1 The Autoblow 2 + XT
If you are planning to buy a better alternative to the Fleshlight, this blowjob machine will not disappoint you.
The automatic appliance massages your penis similar to the sucking provided by a real person.
And what is more, it does not look like a robot at all.
Lifelike material
There are three interchangeable sleeves that cover all sizes of the penis. They are made from an artificial material that is very similar to the skin on touch and feel.
5 rings
Spring-loaded design
Shape mouth
Powerful motor
Its shape reminds a big camping flashlight or an old-fashion thermos. A lot of men find such design very thoughtful and handy.
Each sleeve has an opening in the shape of a mouth and is supplied with three rows of tiny beads. The beads rotate and glide along the sleeve and provide a gentle caressing of the penis.
The updated five-arm spring-loaded design provides much tighter gripping of the cock. The manufacturers improved the previous model by increasing the tightness by 50%. It also means that this fleshlight alternative massages more of your penis.
The motor of the automatic masturbator charges directly from an electrical outlet and does not require batteries.
The powerful motor provides a lifelike sucking sensation and makes the whole process hands-free experience. Forget manual pumping forever.
Robust construction of the engine allows 500 hours of nonstop stroking manipulation. It equals 21 days of uninterrupted penis massage.
The device is supplied with a convenient handle that allows a comfortable grasping while holding the massager in place. Thanks to a nice storage case, carrying, storing, and hiding this fleshlight alternative does not cause any inconvenience.
The massager has three speeds going from low to high. It allows alternately choosing what is best for you at the moment. The control wheel positioned at the bottom of the device triggers the up-and-down movement. All you need to do is just slide it up for speeding, and down for slowing the stroking.
Not being very small, this milking machine will easily fit your luggage when you are on a business trip. While at home, you can keep it out of sight by putting it in your bedside drawer.

Loud noise produced by the powerful motor might be a little indiscreet. However, the real-life sensations worth some noisiness

.
#2 The Lovense Max 2
The Lovense brand offers a male masturbator that is worth buying and trying.
Sex toys of this brand are famous for high-tech features and Bluetooth control options.
Effective
2
That's why this masturbator vibrates, contracts, and interacts with other products of this brand.
Though nobody has beaten the Fleshlight's legendary SuperSkin material yet, the Lovense designers try their best and offer an alternative with a sleeve made of artificial skin material.
The vibrator has three traditional speeds and four preset patterns if you like additional stimulation. The vibrations are more of a rumbly kind and go along the whole length of the sleeve.

The sleeve is removable and easy to clean. Take it out and rinse in warm water. You may even wash the internal case but make sure that you securely closed the air vent.

The air pump technology replicates the contractions of the vagina and ensures tightness. There is a valve that allows customizing suction intensity if it goes too tight. Because the air pump has several settings, it feels great on the shaft of the penis.

Despite its impressive functionality, the masturbator is small enough to fit your baggage during a vacation or socks drawer while playing at home.

The rechargeable battery has a decent lifespan, and the magnetic USB charging cable makes life easier if you travel a lot. A full charge takes about 100 minutes and allows three hours of nonstop self-pleasing.

This fleshlight alternative is Bluetooth compatible and allows long-distance control. You can sync it with other similar sex toys of the same brand. It means that you can get multiple orgasms with your partner, even if you are geographically far apart from each other.

The entire construction is body-safe, and all its parts are 100% hypoallergenic. It is also splash-proof and does not require special care, besides usual rinsing and air drying

.

Due to the vibrator and air pump, the device produces a very loud noise.
The masturbator does not have a decent storage container. A bag or case for carrying around would be a nice addition. Most people like discretion.
There is only one sleeve, although it accommodates all sizes.
#3 THRUST Pro Elite Alana Ribbed Vagina and Ass Masturbator 246.9 oz
Another alternative to the Fleshlight is Alana.
It is a full-size sex toy with delicious buttocks and two orifices to play with.
3
The design of each hole offers different stimulation and doubles pleasurable excitement.
You get your playground where every inch of soft flesh craves for exploration and interaction. The robust construction is stable enough, and you can put amorous panties on it.
This toy provides some realistic foreplay, unlike small pocket masturbators. You can caress, squeeze, and slap the rounded rear before slipping inside her.

One-year guarantee for registered customers.

Great for threesome fantasies.

Waterproof and hands-free

.

Too large and heavy to carry around or travel with.

The price is not affordable for everyone.
#4 The Doc Johnson Mood Exciter Double-Sided Stroker
If you want to buy a cheap alternative to the Fleshlight but still get a nice blowjob, try this stroker.
It is conveniently small and can be carried around in your jeans pocket.
Unlike models described earlier this masturbator has openings at each end.
The pocket-sized toy has a rich texture that consists of arousing ribs and nodules.

The Ultraskyn material provides lifelike sensation and a variety of stimulation of your choice.

One-year guarantee for registered customers

.

The stroker does not have a decent storage container. A hygienic case or plastic shell for storing and carrying around would be a nice addition. Hygiene and discretion are the most important features when it comes to an intimate toy.

It tends to accumulate dust, hair, and other debris, unlike the fleshlight.

Due to gel-based material washing under a tap is not easy because the stoker slips out of hands.

Because the stroker has two openings at both ends and neither is plugged up you have to be ready to dispose of the semen

.
#5 The TENGA Zero Flip Hole Luxury Male Masturbator
Another equally amazing alternative to the Fleshlight is a stealthy masturbator that opens like a book.
The Tenga brand is famous for its two previous best-selling models.
This one is cheaper because it does not vibrate but has an upgraded design and texture. Inside the toy, you can see bumps, swells, and folds intended for resilient-yet-soft stimulation.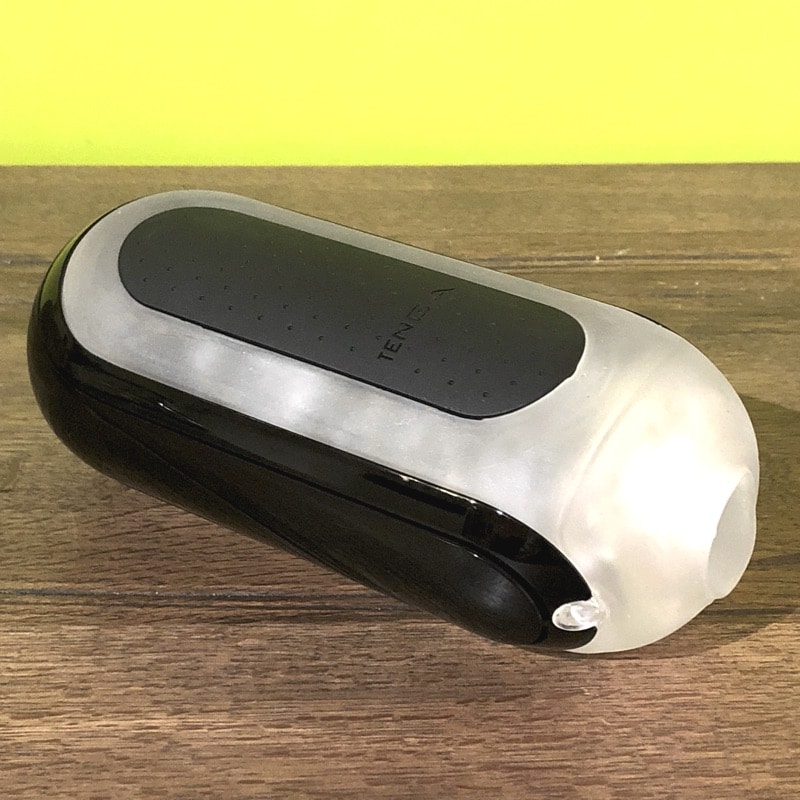 Due to the manual pressure pads, you can customize suction intensity inside the masturbator.

A one-way valve ensures the needed tightness by providing a strong vacuum.

Body-safe material contains no phthalates.

Waterproof and super easy to clean and maintain

.

No decent storage container. A bag or case for carrying around would be a nice addition. Most people like convenience and discretion.

After washing the device may keep some water under the pressure pads. It is recommended to air dry the toy before putting it away.

Some people might find it problematic to hold.

Not durable compared to the fleshlight.
Male sex toys come in a variety of shapes and textures
Masturbators are remarkable sex toys for self-stimulation, especially if you are tired of using your hands to pleasure yourself.
How to choose the best fleshlight alternative?
Like all other sex toys, male masturbators vary in shape, design, and features.
And because tastes differ, each of us looks for special characteristics.
Here is the list of important things you should take into account while surfing websites for the best fleshlight alternative.
The size of the fleshlight depends on where you play and store your sex toy. Small pocket items are convenient for carrying around, traveling, and hiding from children or parents. It is also very important to have a convenient storage bag or box to disguise your fleshlight.
The quality is the most essential aspect of the fleshlight. Of course, it always affects the price, whether we like it or not. Nevertheless, do not disregard body-safety, durability, and functional features.
Make up your mind on the design – are you looking for a realistic or fetish fleshlight alternative? The former is great for stamina training. The latter is more suitable for pure pleasure and wild fantasies.
When it comes to intensity, less stimulating toys are a proper choice for a beginner. Those who crave the highest pleasure should try models with multifunctional options and tighter settings.
Stamina is more important than the size of the penis
As it turns out, masturbators are not only toys. No doubt, these tools make us feel wonderful because they work as stress relievers.
Many men use them only in that capacity and can't envision their pleasure time without them. Neither do I.
However, the fleshlight is also useful for stamina training. The higher is stamina the better becomes the performance.
Your male or female partner will appreciate your high functionality in the bedroom.
Also, these sex toys can be effective practical tools for those who experience premature ejaculation. Do not think twice – buy yourself a nice fleshlight and improve your performance.