What do you feel when your girlfriend is on her business trip?
You're bored and frustrated, and the same is feeling your dick.
Realistic fake pussies are sex toys created to make your loneliness not so irritating. In the world of sex devices, they're somewhere on the top near dildoes and vibrators. We introduce you a review of the best and most popular male masturbators available in 2022.
Male masturbators are diverse. Some fake vaginas are realistic, and others are not
The only thing they have in common is that they can make you cum quickly
Explore your penis to find the most sensual erogenous spots, and after that, choose the best fake pussy
1. Autoblow 2+XT
This male masturbator should definitely be number one in our review.
It is a sort of exclusion: not exactly a fake vagina, but an artificial mouth that can do a mind-blowing blowjob whenever you want.
And you don't have to listen to it after all — quite a significant advantage.
Why should I purchase it?
The creators did their best to invent a device that is suitable even for most hungry-for-sex men.
Impressive multifunctionality is combined with a simple but appealing design.
Automatic toy
Just give a rest to your arms and let Autoblow Two take you to the unforgettable orgasmic trip.
Length 9.5 inches
5-arm gripper
Extra tightive
Powerful motor
The white and blue plastic tube doesn't look that realistic, but as the phrase goes, never judge a book by its cover. Inside Autoblow Two is probably the most realistic fake pussy ever.
XT stands for "extra tight." This male sex stimulator will never release you before you cum.
A re-designed 5-arm penis gripper is 50% tighter than on other models. With this thing, orgasms should definitely be brighter.
A discreet and convenient storage case goes together with the device. Don't worry where to hide it when your girlfriend comes back.
The toy uses a powerful electric motor to give you the best masturbation experience.
You can use it alone or together with a partner. Foreplays are not only for women!
✔Pros

No batteries are needed, plug Autblow into any electrical outlet and enjoy. The device is safe.

Hands-free. Autoblow does everything, and you control only the speed and intensity of masturbation.

It feels great. This fake pussy is the best truly realistic alternative to classic male masturbators.

Suitable for sex stamina training. There's an "Edging" button which enables "stop and go" masturbation mode.

The material is skin-safe.

The orifice is smooth and will never hurt you. No "vagina dentata."

It's truly a pocket pussy. Autoblow is so discreet you can take it wherever you need without concerns.

Sleeves are interchangeable and reusable.

The sleeves' lifespan is longer because a new spring-loaded design is used.

The device is hygienic. It's possible to clean sleeves using soapy water or a special toy cleaner.

The cleaning process is much easier because the device can do it partly by itself.

Robust construction. Autoblow Two+ XT has an all-metal industrial-strength motor. The working source is at least 500 hours of use.

Extended guarantee and ability to have another device if anything breaks down in the one bought.

Fast shipment.

The price is much lower if you buy it online.

You can choose a cleaner right when you buy a sex device

.

✘Cons

The price is really high. This toy is positioned as an upper-class male masturbator.
Autoblow Two is NOT compatible with other sex devices.

 
All in all, it is a great choice and probably the best fake pussy on the market.
In our review, we let you see real people comments about the goods.
Really cool: when I told my wife that this machine is better than her at getting me off, she kicked me out of her house. Thank you so much. I love you guys (by Carlos).
2. Max 2 from Lovense
Lovense has a long history of making high-quality sex toys.
They created the first generation of male masturbators in 2011, and since then, their kinky products are often represented in different reviews.
Intense
2
Max Two takes into account all previous mistakes, so it's a modern and multifunctional device. It would be suitable both for beginners and experienced sex toys users.
Key features
A remote control option will make you a toy in your partner's hands.
Wireless technology allows not to be entrapped in cords in your bed during foreplay.
Solo use mode is suitable for lonely men.
Max Two is a rechargeable fake pussy, so you don't have to worry about buying batteries.
You can control the intensity of air pump work using a special switch.
It's possible to synchronize Max Two with other sex toys.
The manufacturer claims that 95% of men comfortably play with this device as it can accommodate nearly any penis size.
The sleeve is removable, so it's easy to clean it.
The operation manual is enclosed, and it's great for sex toys beginners.
✔Pros

Two types of sleeves are available. One of them imitates the vagina very realistically. There are a molded orifice and textured canal.

Remote control via Bluetooth allows operating the toy using a smartphone.

Compatible with a small number of other sex toys.

You can connect Max two to a PC using a special USB adapter made by Lovense.

USB charger goes together with the sex device.

The device is partly compatible with other sex toys so that you can use it together with another Max/Max TWO or Nora.

The material is health-safe and very pleasant when you touch it.

The charging process is easier than it was in old versions.

The fake pussy has a modernized sensor

.

✘Cons

It's only splashproof, so forget about playing in a tub.
A battery is pretty weak.
The price is high.

 
3. Interactive Sex with Stoya Destroya
This weird and a bit poetic name is given to a fake pussy that certainly deserves a place in this review.
First of all, the name is given after a famous American pornographic actress.
3
By buying this toy, you can make your desire for Stoya real.
Fleshlight International produces all sorts of sex devices, and all of them are elaborately designed to meet your requirements.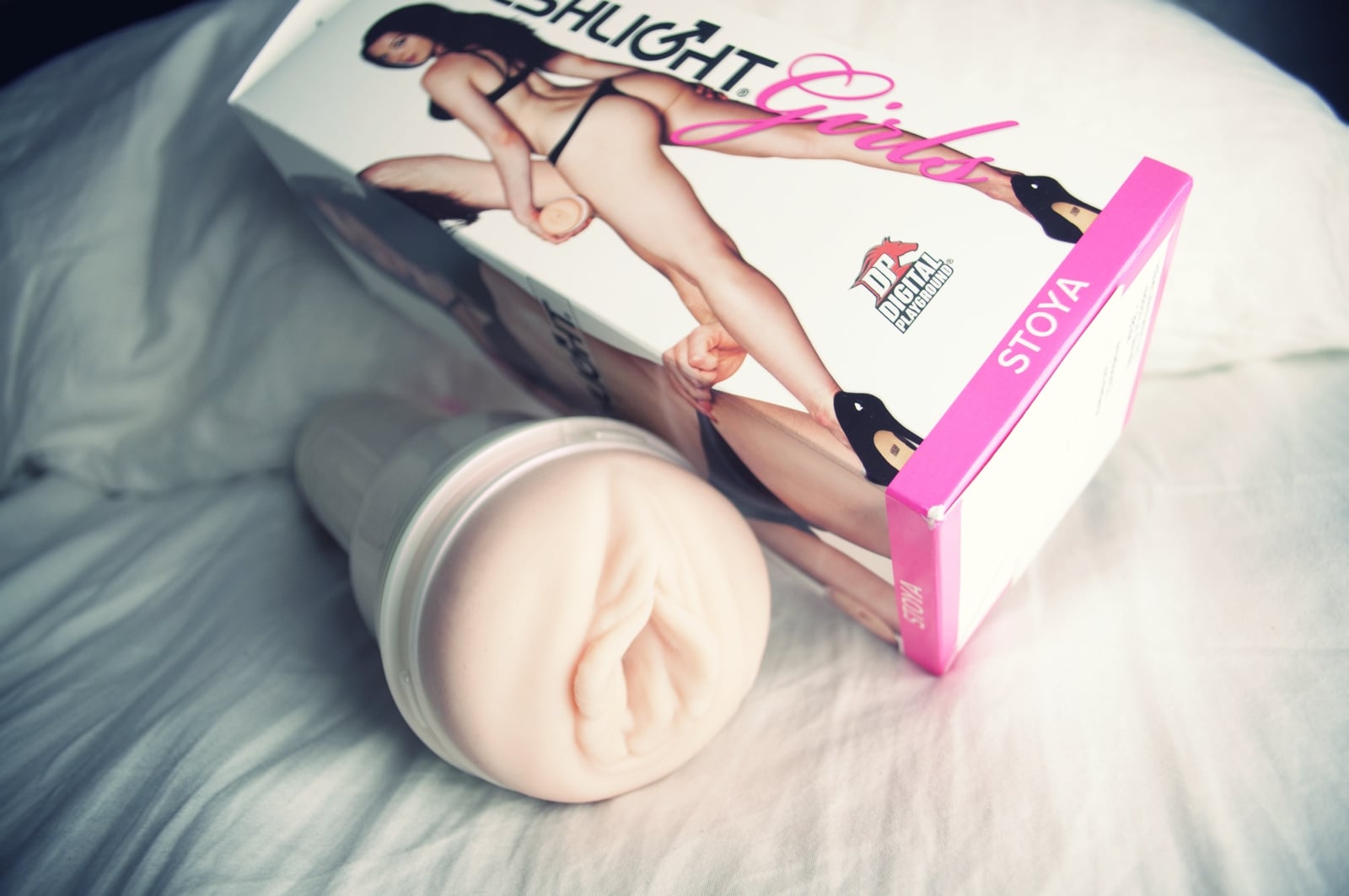 What makes it Unique?
The fake pussy orifice is taken from the exact real molding of Stoya's labia. It's great news for her passionate fans.
The inner sleeve structure is designed in the form of several connected chambers. Each one has specific little massagers — "fangs," and together they give you not very realistic, but definitely strong and pleasant feelings.
This artificial vagina would be ideal for those who prefer intense stimulation. Maybe it can even serve for sext tortures — if you and your partner like BDSM.
✔Pros

It is the best fake vagina for those who love Stoya. There are absolutely no alternatives to feel her better (well, if you don't decide to fall in love with her in real life).

Discreet shipping.

Anonymous billing guarantees nobody will know about your fetish.

More than 12 million fake pussies have been sold already. Mass popularity confirms high quality.

The fake pussy is made of health-safe material that will not leave your penis indifferent.

Stoya Destroya can accommodate any cock. The last massaging chamber serves as a nice bonus for those who can touch it.

You'll receive a Fleshlube Water, Fleshlube Sample, Fleshlight Launch, and Operation Manual together with the device.

The checkout is 100% secure. If you don't trust web stores, this one is an exclusion

.

✘Cons

The price is very high compared to all similar models, including the first and the second in this review.

Stoya Destroya gives strong feelings, but they are not realistic. It is more a masturbator than a vagina.

For some users, the stimulation intensity is too hard, especially when you're about to cum. The tightness of the sleeve sometimes seems excessive.

The structure is so complicated that it's pretty difficult to clean the device. The cleaning process is time-consuming but necessary, as different bacteria hide under numerous "fangs" after each use.

You have to use more lube in order to avoid uncomfortable friction

.

 
This toy is highly unusual. Its strong and weak points often differ from those typical male masturbators have.
Logically, some disadvantages come out of the toy's strong sides:
4. Kiiroo Onix 2 Interactive Male Masturbator
Most male masturbators are ugly: just a bland plastic tube with labia imitation on one end and several buttons on the body.
Kiiroo Onix 2 is certainly and exclusion.
The creators did their best to invent something stylish, beautiful, convenient, and pleasant simultaneously. This fake pussy is compatible with other devices, and it uses revolutionary technology to make masturbation as realistic as possible. It's positioned as the most advanced masturbator for men.
Why is it so good?
In a nutshell, the key features are the style, compatibility, and intensity of stimulation.
Let's look at them closer:
Kiiroo Onyx Two automatically does up to 140 strokes per minute, which makes it one of the most powerful penis stimulators.
Ten contracting rings simulate a stroking sensation.
It's possible to play alone or to synchronize it with your partner.
Modern and futuristic design makes it the most beautiful and pleasant-to-hold sex toy.
The device can be synchronized with Virtual Reality technology.
Onix 2 is unusually light, so it's pretty easy to transport.
Instead of buttons, there're sensitive pads that allow adjusting intensity and modes.
✔Pros

Use of VR and Classic 2D guarantees that your experience will be unusual. You can connect Onix Two to different interactive content. If you have ever dreamed about watching porn films in a cinema, this is as close as you can get to the dream.

Stylish matte body of the masturbator underlines high quality and status of the product.

The fake pussy is genuinely multifunctional and can simulate oral, anal, or vaginal sex.

The cleaning process is very easy; use soapy water.

Twelve months warranty is given when you purchase this fake pussy.

Free and discreet shipping will never let your wife know what an interesting tool you bought

.

✘Cons

It takes six hours to charge Onix Two completely.

The Lithium-ion battery works for only one hour. It's not enough for real gurus of masturbation.

Onix Two is not waterproof.

The price is not low as Onix Two is positioned as a high-end sex toy.

This device is not available in Canada

.

 
5. Stoya Destroya Combo
Here we go again. On the last place, we have another version of Stoya Destroya male masturbator, or, in fact, another package.
Combo variant is no so advanced as a classic version, but still, it has the same advantages.
✔Pros

Discreet billing and shipping.

✘Cons

The structure is not realistic.

It's difficult to clean the sleeve correctly. Drying it after all takes several hours

.

 
Main differences from Interactive Sex with Stoya Destroya package
No fleshlight launch. Interactivity is much worse.
The price is significantly lower.
If you're a fan of Stoya, but you don't feel like spending too much money on your fetish, Combo version will be the best choice.
Frequently Asked Questions
So many people use sex toys, but few understand how to do it correctly.
It's not enough just to buy a fake pussy and put your willie in it.
There're some tricky points, and we compiled the most common questions about them.
What happens if I don't clean a fake pussy after each use?
When you use a male masturbator, it quickly becomes dirty because of lubes, sperm, and any other natural fluids. Of course, it makes its nubs, "fangs" and rings full of bacteria. If you use it without cleaning, these bacteria may hurt you even if the friction is not strong.
How should I store my sex toy?
You can keep it almost anywhere, but this place should be dry to save batteries (if your fake pussy is automatic).
Clean the device before putting it there. Take the cells out, so they'll serve longer.
Is it better to use lubricants?
Yes. A dry sleeve, especially if it is tight and has a complicated inner structure, can hurt your skin.
Can I change a fake pussy or get my money back if it breaks down?
No, it's impossible in most cases because of hygienic reasons.
However, you can write to the manufacturer if you find defects on a device right after taking it out of a package.
What if my partner doesn't like that I'm using a male masturbator then she (or he) is absent?
Try to explain that there's nothing criminal in sex toys. Say that you love your partner so much that you can't stand being alone and unable to cum.
Conclusion
All sex toys are good, but some are better than others. In this review, we tried to be objective.
We take into account such criteria as size, price, quality of material, people comments, shipment bonuses, multifunctionality, type of battery, and so on.
There can't be an absolute leader.
We hope that our review will help you find the most convenient one.
What to consider when choosing a fake pussy?
Fake pussies are becoming an increasingly popular way to enjoy sexual satisfaction without the need for a partner. Whether you're looking for something simple or complex, there are plenty of different styles and materials available on the market to choose from. When it comes to selecting the right fake pussy, there are a few important considerations that should be taken into account.
The first thing you should consider is what type of sensations you're interested in experiencing with your fake pussy. Different models come with different textures and levels of intensity, so it's important to pick one that suits your preferences. Some models feature realistic designs and textures while others provide added stimulation through vibration or suction capabilities. Be sure to research all available options before making a decision.
Another factor to take into account when choosing a fake pussy is size and shape. All models will vary in size, but some may be too big or small for comfort depending on your anatomy. It's also important to consider how easy it is to clean and maintain; some materials such as silicone are easier to sanitize than others like rubber or latex. Lastly, price can also be an important factor – there's no reason why you should break the bank for your new toy!
No matter what kind of fake pussy you decide is best for you, make sure that you read reviews online before purchasing your new toy! Doing so will help ensure that you get the highest quality product at the best price possible. With all these factors in mind, have fun exploring all of the possibilities out there – happy shopping!
1. Fake Pussy: Material
Fake Pussy is a material that is designed to mimic the feel and sensation of real-life pussy. It's made with soft, flexible materials such as silicone, rubber or latex and molded in intricate detail to replicate the look and feel of a real vagina. Fake pussies come in many shapes and sizes so they can accommodate different preferences. Many fake pussies are also often equipped with vibrating features which adds an extra level of stimulation for those looking for something more than just the physical sensation. The use of fake pussies has become increasingly popular over recent years due to its convenience and affordability – it enables people to enjoy all the pleasure of sexual pleasure without having to worry about protection or finding a willing partner.
2. Why Fake Pussy?
Fake Pussy provides users with a unique way to experience sexual pleasure. It allows them to experiment with different sensations in complete privacy, without worrying about any potential risks associated with unprotected sex or having to find someone else who might be interested in participating. Additionally, since it's not real, you don't have to worry about any potential emotional issues that might arise from being intimate with another person. For those who want maximum control over their own sexual pleasure, fake pussy may be an ideal option.
3. How To Use Fake Pussy
Using a fake pussy is pretty simple – all you need to do is lubricate it (with water-based lubricant) and then slide it onto your penis (or whatever body part you want). If your device has vibrating features, make sure these are switched on before getting started! Once everything's ready, start thrusting away as if you were having actual intercourse – there's no wrong way here! As you get used to the feeling, experiment by adjusting the speed and pressure that you use – this will help you find out what works best for you! When finished simply remove the device and clean up using warm soapy water (or refer to instructions included with your device).
4. Benefits Of Using Fake Pussy
Using a fake pussy can be incredibly beneficial for many reasons; not only does it provide users with complete control over their own pleasure but it also eliminates any potential risk associated with unprotected sex or finding someone else who might be interested in participating at that moment in time. Additionally, using fake pussies can help improve your masturbation technique which can ultimately lead to better orgasms when engaging in actual intercourse – win win!
2. Fake Pussy: Size
Fake pussy comes in all sorts of shapes, sizes, and textures. While not as realistic as a real vagina, it can still provide a pleasurable experience for those who are looking to add some spice to their sex life.
When it comes to size, there is no one-size-fits-all when it comes to fake pussies. Depending on what you're looking for and your unique needs, you may need a larger or smaller version than others might need. If you're looking for something that more closely resembles the real thing, then you should look for something with an inner canal that mimics the tightness of a real vagina. There are also different types of materials used in these products so make sure to pick one that will best suit your needs.
It's important to remember that just because something is bigger or smaller doesn't mean it's better or worse than another option. Everyone has their own preferences when it comes to size and texture so don't be afraid to experiment until you find the right fit!
3. Fake Pussy: Design
When it comes to design, fake pussy is in a league of its own. From the moment you lay eyes on one of these realistic creations, you know that you are dealing with something special. The attention to detail and the craftsmanship that goes into each and every piece is second to none. Whether you're looking for a lifelike cat or dog replica, or a detailed human figurine, fake pussy has something to offer everyone.
The level of realism achieved by these pieces is truly remarkable. Thanks to advances in materials and manufacturing techniques, fake pussy designers have created some incredibly life-like models that can fool even the most experienced eye. With intricate details like fur coloration, whiskers and claws, these replicas look almost identical to their real-life counterparts.
But there is more to fake pussy than just looks – they also boast impressive durability too. Made from high quality materials such as silicone rubber or plastic resin, these pieces can withstand everyday wear and tear without suffering any damage or discoloration. And because they don't contain any animal products or byproducts, they are an ethical way of displaying your love for animals without compromising your values.
With so many exciting designs available on the market today, it's no wonder why fake pussy has become so popular among collectors and art lovers alike!
4. Fake Pussy: Feel
Fake Pussy is a revolutionary product designed to give women the feeling of a real cat's fur. It's made with advanced technology and materials that make it soft and supple, while still being durable enough to withstand regular use. The unique design of Fake Pussy allows users to experience a realistic feel of touching a real cat, without having to worry about allergies or shedding. This innovative product can be used both as a toy for children and as an alternative to pet ownership for those who are unable to have pets due to allergies or lifestyle constraints.
Fake Pussy has been carefully crafted using high-grade synthetic fibers that mimic the look and feel of real cat fur. The fibers are hypoallergenic, making it perfect for those with sensitive skin. Fake Pussy is also machine washable, making it easy to clean and care for. The design is lightweight and compact, meaning you can take your Fake Pussy anywhere!
The original idea for this product came from the observation that many people enjoy the feeling of petting cats but cannot own one because they suffer from allergies or just don't have the time or energy required for pet ownership. With Fake Pussy, these individuals can now experience the joys of playing with cats without any risk of allergic reactions or shedding fur all over their homes.
In addition to its practical uses, Fake Pussy provides users with a unique sensory experience that is sure to bring joy into their lives. Whether you're snuggling up with your new furry friend or using it as an interactive toy, this innovative product will provide hours of fun and relaxation!
5. Fake Pussy: Adjustability
Fake pussy has become increasingly popular in recent years as a way for people to explore their own sexuality or have a little bit of naughty fun. Fake pussies come in all shapes and sizes, from realistic-looking models to more abstract designs, and offer varying levels of adjustability depending on the user's preferences.
For those looking for something a little more customizable, adjustable fake pussies are the way to go. These devices can be adjusted in terms of tightness and texture, making it easier to find the perfect level of stimulation. This makes them ideal for experimenting with different sensations and exploring new sexual fantasies without having to worry about getting too uncomfortable. Additionally, they are often made from body-safe materials like silicone, which makes them safer than traditional models that might contain harmful chemicals or toxins.
Adjustable fake pussies can also provide a great way to practice safe sex if you're not ready to take the plunge with a partner just yet. Not only do these devices help you get used to feeling something inside your body before engaging in real intercourse, but they can also help simulate the experience so you feel less anxious or overwhelmed when it finally comes time for the real thing. Plus, since there is no risk of pregnancy or STDs when using an adjustable fake pussy, you can enjoy yourself guilt-free!
All in all, adjustable fake pussies are an excellent option for anyone looking for something new and exciting in their sex life – whether that means exploring solo play or preparing for partnered sex. With so many options available on the market today, there really is something out there for everyone!
7. Fake Pussy: Suction
Fake pussy, also known as "suction dolls" or "love dolls," is a type of sex toy that replicates the feel and texture of a real vagina. The technology behind these products has advanced over the years to make them feel more realistic and lifelike. Fake pussies come in many shapes and sizes, with some even having moving parts to give a more authentic experience. They are typically used for masturbation purposes, allowing people to control their own pleasure without relying on another person.
The main benefit of using fake pussies is that they provide an intimate experience without involving another person. This can be especially useful for those who may find it difficult or embarrassing to discuss their sexual needs with a partner. Additionally, because they are not made from real flesh, users don't have to worry about STDs or other health risks associated with unprotected sex.
Fake pussies can also be great for exploring one's fantasies or fetishes in a safe and controlled environment. For example, if someone is interested in bondage but doesn't want to involve another person yet, they can use fake pussies to explore the sensation of being restrained without any additional risk. Similarly, those who like roleplay scenarios can use fake pussies as props for their fantasy scenes – again without exposing themselves or others to additional health risks.
Ultimately, fake pussies offer an excellent way for people to explore their sexuality at their own pace and comfort level – something that would otherwise be impossible with traditional partners. So if you're looking for an alternative way to satisfy your desires without risking your safety or reputation, then why not give fake pussy suction dolls a try?
8. Fake Pussy: Thrusting
Fake pussy is a term used to describe the act of thrusting during sexual intercourse. While it may sound like a strange thing to do, it can actually be quite pleasurable for both partners. Thrusting is a way for the man to stimulate the woman's clitoris and G-spot, thus increasing her pleasure. It can also increase his own pleasure as he gets extra stimulation from the movement of his penis inside her.
The most important part of fake pussy thrusting is finding the right rhythm that works for both partners. This means experimenting with different speeds and angles until they are both satisfied with what they find. It also helps if your partner knows how to move in sync with you or even better, make small adjustments that please you more than anything else!
Once you find the perfect rhythm, take your time and enjoy it – this is where things get really hot! As always, communication is key here so make sure to ask your partner about what feels good for them and listen carefully to their feedback. It will help you give them an experience they'll never forget!
9. Fake Pussy: Lubricant
Fake pussy lubricants are a growing trend in the sex toy industry. They offer an alternative to traditional lubricants that can be used during sexual activities, and they come in a variety of textures, scents, and flavors. Fake pussy lubes are designed to mimic the sensation of real vaginal secretions while providing additional lubrication for improved pleasure. The addition of these special lubes can help make sex more enjoyable and comfortable for both partners, as well as helping to reduce discomfort associated with dryness.
Fake pussy lubes are made from natural and synthetic ingredients, including plant-based oils such as coconut oil or almond oil, silicone-based products like dimethicone or cyclomethicone, and sometimes even waxes or water-soluble gels. These unique ingredients create a slippery texture that mimics the feeling of vaginal fluids without being too thick or sticky. Fake pussy lubricant is also often fragranced with essential oils like lavender or ylang-ylang to heighten the sensations of arousal during sexual activity. Additionally, many brands also add flavorings such as mint or cherry so users can enjoy an extra boost of flavor while using their favorite toy!
These products have become increasingly popular amongst those looking to improve their sexual experience with toys such as strapons, dildos, vibrators, pocket pussies, masturbators and more! Unlike traditional lubes which can be messy or uncomfortable to use with certain toys due to their thicker consistency; fake pussy lubricants offer a slicker experience that feels almost identical to real skin on skin contact – perfect for achieving maximum pleasure! Whether you're looking for something sweet and flavorful like strawberry lemonade flavored lube or something smooth and silky like vanilla bean flavored lube – there's sure to be something out there that will make your next session extra satisfying!
10. Fake Pussy: Stimulation
Fake pussy is a form of sexual stimulation that involves the use of artificial genitalia. This type of stimulation can be used to simulate real-life sexual experience, allowing users to explore their fantasies in a safe and controlled environment. Fake pussies come in many shapes and sizes, ranging from realistic-feeling silicone models to more abstract shapes. They are often used in solo play, but can also be great tools for couples looking to add something new to their sex lives.
Fake pussies provide a variety of sensations depending on how they're used; some feature vibration settings for added stimulation, while others have textured exteriors for enhanced pleasure. Many feature internal ridges or bumps for added sensation during penetration. When using a fake pussy it's important to find one that fits your body and provides the best experience possible – if you're using one with a partner make sure to communicate about what feels good for both of you!
No matter how you choose to use it, fake pussy can be an exciting way to add some spice into your sex life. Whether you're looking for solo pleasure or something extra special with your partner, there are plenty of options available so don't be afraid to experiment and find out what works best for you!
15. Fake Pussy: Price
Fake Pussy is an adult toy that has increased in popularity over the past few years. The toy is designed to simulate the sensation of a real vagina, enabling users to experience pleasure without any risks associated with sex. Fake Pussy is available in various sizes, shapes and materials, ranging from realistic silicone models to more basic latex or jelly varieties. Prices for Fake Pussy vary significantly depending on the model and quality of material used – budget options start at around $20 while high-end models can cost up to a few hundred dollars.
When shopping for a Fake Pussy, it's important to consider your own personal preferences and budget before making a decision. If you're looking for something that feels as close to the real thing as possible, then investing in a higher quality option made from silicone or other advanced materials is well worth it. On the other hand, if you just want something simple that will do the job without breaking the bank then cheaper alternatives made from jelly or latex are great starting points. Ultimately it comes down to what delivers the most satisfaction for you – so make sure you try out different options until you find one that works best!
17. Fake Pussy: Cleaning
Fake Pussy has become an increasingly popular alternative to real fur as it offers a more affordable and ethical solution for those looking for a furry fashion statement. Fake pussy comes in a variety of styles, colors and materials, making it easy to find the perfect faux fur accessory that fits your style. Whether you're looking for a statement piece or just something to add a little extra warmth on cold days, fake pussy is the way to go!
Cleaning your fake pussy can be tricky depending on what material it is made from. Faux fur accessories are typically made from synthetic fibers such as polyester or acrylic which can withstand machine washing. Before putting your item in the washing machine make sure to check the care label and follow any instructions given. It's important not to use hot water when washing faux fur as this may cause damage; opt instead for using cold water and mild detergent on a gentle cycle setting. Make sure not to dry clean or iron your faux fur items as this could also cause damage.
For more delicate materials like velvet, satin or lace you should spot clean only with warm water and mild detergent. Take care when cleaning these materials so that you don't damage them by scrubbing too hard or using harsh chemicals. Once washed, let your fake pussy air dry naturally away from direct sunlight or heat sources such as radiators – tumble drying should be strictly avoided with these fabrics.
To keep your fake pussy looking its best always store away after wearing using an appropriate storage box or bag; this will help avoid dust gathering and protect against any accidental tears of snags while stored away.
The 10 best faux pussies for your bedroom
When it comes to spicing things up in the bedroom, a good faux pussy can be a great way to add some excitement. This article will provide you with an overview of the 10 best faux pussies available on the market today and why they are so popular among couples looking for something new and exciting.
First off, we have the classic Fleshlight. These products come in a variety of shapes and sizes, making them perfect for anyone who wants to experience realistic sensations without going all out. Plus, they are very affordable and easy to clean, making them ideal for those just starting out with exploring their sexuality.
Next up is the Tenga Egg masturbator. This product is designed to provide intense stimulation thanks to its egg-like shape and internal ridges that create an incredibly pleasurable sensation when used correctly. Plus, it's small enough to fit comfortably in your hand or pocket which makes it perfect for discreet use during solo sessions or even when you're travelling.
Thirdly is the We-Vibe Rave vibrator – this one is designed specifically for G-spot stimulation thanks to its curved shape and powerful motor that delivers powerful vibrations directly where you need them most! It also features an app that allows you control over intensity levels from your smartphone, so you can really customize your experience every time you use it.
Fourthly we have the Womanizer Starlet 2 – this clitoral stimulator is designed with a unique suction technology as well as 8 adjustable speed settings allowing users to tailor their pleasure exactly how they want each time. It even has a waterproof design which makes it perfect for some fun in the bath or shower!
Fifthly we have the Satisfyer Pro 2 – this toy uses air pressure waves instead of vibrations like other toys do which creates an entirely different sensation altogether! It's also waterproof so can be used either alone or with a partner during foreplay or sex depending on what suits your needs best at any given moment in time.
The last five picks on our list include: The We-Vibe Nova 2 rabbit vibrator; The Kiiroo Onyx+ male masturbator; The Lovense Max 2 prostate massager; The Fun Factory Stronic Drei pulsator; And finally, The Hot Octopuss Pulse III DUO couples' toy – all of these products offer something incredibly unique but still remain highly effective at providing intense pleasure no matter what your individual needs may be! So whether you're looking for something simple or more advanced, there's definitely something here that will suit everyone!
1. The THRUST Pro Elite Alana – Best Fake Pussy Overall
The Thrust Pro Elite Alana is the ideal fake pussy for those who want to experience the closest thing to a real vagina. This ultra-realistic male masturbator is made from a soft, lifelike material that feels just like the real thing. It has an adjustable suction system and an internal texture that provides intense pleasure with each thrust. The Alana also features two powerful motors that can be adjusted to your desired speed and intensity level. Whether you're looking for something to spice up solo play or are looking to add some extra excitement in the bedroom, the Thrust Pro Elite Alana is sure to deliver!
This high-quality device comes with a rechargeable battery, plus a USB cable so you can easily power up when needed. You'll also get access to free downloadable content so you can explore new fantasies or recreate your favorite scenes in virtual reality! With its sleek design, comfortable fit and realistic feel, it's no wonder why this fake pussy is one of the most popular on the market. If you're looking for an immersive experience without sacrificing quality or comfort, then look no further than the Thrust Pro Elite Alana!
5. Kiiroo Keon: Hands-Free Pocket Pussy
The Kiiroo Keon is the latest in hands-free pleasure technology. It's a pocket pussy that combines an ergonomic design with advanced technology to bring you unprecedented levels of stimulation. The Keon has two powerful motors, one located in the base and one located at the tip, with eight different vibration modes and three intensity levels for each motor. You can control it wirelessly from up to 30 feet away using its remote or your smartphone. The device is also USB rechargeable and waterproof, making it perfect for solo play or couples.
The Keon features a unique "Touch Sense" technology that responds to your movements, allowing you to customize your experience even further by controlling its speed and intensity as you thrust. With its sleek design and discreet size, this pocket pussy is sure to please anyone looking for an easy way to get off without having to hold onto anything or use their hands. Whether you're looking for an upgrade from manual masturbation or a new way to spice up your sex life with a partner, the Kiiroo Keon is sure to hit all the right spots!
6. The THRUST Pro Elite Alicia
The THRUST Pro Elite Alicia is an all-in-one gaming chair designed to give you the ultimate gaming experience. Featuring a sleek and stylish design, the Alicia combines comfort, style, and uncompromising quality all in one product. With its ergonomic design, adjustable height settings, adjustable armrests and adjustable recline angle, this chair is perfect for any avid gamer or computer user who wants to stay comfortable while playing their favorite games or using their computers for long periods of time.
The Alicia was created with the latest technology in order to keep it up to date with the ever changing needs of gamers. It features a breathable mesh backrest that helps keep your back cool and comfortable during hours of intense gaming sessions. The padded seat also provides added comfort while you are sitting for extended periods of time. The adjustable armrests can be adjusted to accommodate any body size so you can find just the right fit that's best suited for your body type.
In addition to its ergonomic features, this chair also has some great visual appeal that adds a nice touch to any gaming setup. The black faux leather finish gives it a modern look and feel while the blue accents add a nice pop of color which makes it stand out from other chairs on the market. Furthermore, there is an LED lighting system at each side of this chair which allows it to glow in different colors depending on your mood or preference giving your room a unique look every time you use it!
Overall, if you are looking for an all-in-one gaming chair that offers great comfort as well as style then look no further than the THRUST Pro Elite Alicia! It has everything you need in order to make sure that your gaming sessions are always enjoyable no matter how long they last!
8. The Utensil Race Proof 005 Zhang Xiao Yu's Realistic Pussy Masturbator
The Utensil Race Proof 005 Zhang Xiao Yu's Realistic Pussy Masturbator is a revolutionary new sex toy that is sure to spice up your bedroom routine. This realistic masturbator was designed and crafted by renowned Chinese erotic artist Zhang Xiao Yu, who has been creating beautiful and innovative adult toys for years. With the Utensil Race Proof 005, he has taken his craftsmanship to a whole new level. The incredibly realistic design is an exact replica of a real woman's genitalia and features an ultra-soft material that feels just like the real thing.
This masturbator comes with a variety of settings and functions that can be adjusted to your desired levels of intensity, making it one of the most versatile masturbators on the market today. Whether you're looking for gentle vibrations or powerful thrusting, this toy has it all! Plus, its unique "race proof" technology ensures that no matter how fast you go, the toy won't break down or stop working – even after multiple uses. And since it's waterproof, you can enjoy it in the shower or bathtub as well!
The Utensil Race Proof 005 Zhang Xiao Yu's Realistic Pussy Masturbator has quickly become one of the hottest sex toys around, thanks to its incredible realism and amazing performance. With its high quality construction and user-friendly design, this toy will take your solo sessions to a whole new level – giving you an unforgettable experience every time!
10. Pipedream Extreme Fuck Me Silly 2
The Pipedream Extreme Fuck Me Silly 2 is a sex toy designed to give users an incredibly realistic experience. It has a lifelike body and skin-like material, making it feel just like the real thing. Its interior is made of soft phthalate-free PVC, meaning it's safe and hygienic for use. It also has three tight love tunnels that provide intense stimulation with each thrust. The Fuck Me Silly 2 also includes a powerful vibrating bullet that can be used for added pleasure.
The design of the Fuck Me Silly 2 is perfect for those looking to get the most out of their sex toy experience. Its tight entryways create an amazing suction sensation as you thrust, while its textured inner walls add even more stimulation. You can also adjust the angle of the toy to find your ideal position and make sure you hit all your sweet spots every time! The vibrating bullet adds another level of pleasure as well, allowing you to take your orgasmic experience to new heights.
Overall, the Pipedream Extreme Fuck Me Silly 2 is an excellent choice for anyone looking for an incredibly realistic and intensely pleasurable sexual experience. With its lifelike body and skin-like material, three tight love tunnels, adjustable angle and powerful vibrating bullet, this sex toy will certainly fulfill all your desires!
12. THRUST Pro Ultra Holly Realistic Vagina
When it comes to finding a realistic and satisfying experience that you can enjoy in the privacy of your own home, the Thrust Pro Ultra Holly Realistic Vagina is an excellent option. This highly realistic vagina is made from a soft, lifelike material that feels just like real skin, giving you an incredibly realistic sensation during use. The interior of this product is designed to be extra tight and provide maximum pleasure, with ridges and bumps that offer intense stimulation as you thrust away. With its ribbed inner walls and large chamber, this product will give you a truly extraordinary experience every time. An added bonus is that it's easy to clean and maintain for long-lasting enjoyment. Whether you're looking for something simple or something more sophisticated, the Thrust Pro Ultra Holly Realistic Vagina provides an incredible level of satisfaction that can't be beaten!
13. Stoya Destroya: Most Tight & Intense
Stoya Destroya is a unique, intense toy from the Stoya collection. This toy has been designed to provide an unparalleled level of pleasure and satisfaction. It features an ergonomic shape that fits perfectly in your hands and allows for easy maneuvering during playtime. The surface is made of silky smooth silicone and the shaft is covered with small nubs and ridges that add extra sensation.
The Stoya Destroya has two powerful motors located at the base of the shaft that provide deep, rumbling vibrations. The rotating beads on the shaft move up and down as you adjust the speed setting giving you a variety of sensations. The motor also features multiple speeds allowing you to experiment with different intensities. With its sleek design and intense power, the Stoya Destroya will take your pleasure to new heights!
14. Tenga 3D Pocket Pussy
The Tenga 3D Pocket Pussy is the perfect companion for those looking to add a little extra excitement to their bedroom playtime. This pocket-sized pleasure device features an innovative design that offers a unique three-dimensional experience with its intricate inner structure, allowing users to explore an array of pleasurable sensations. The outer casing is made from soft and stretchy material, giving it a realistic feel and look, while the internal chamber is lined with hundreds of stimulating nodes designed to provide intense stimulation. With its convenient size, this device can be taken anywhere – making it ideal for spontaneous fun or as a discreet accessory in your nightstand drawer. Whether you're looking for something to spice up solo play or enhance your partner experience, the Tenga 3D Pocket Pussy is sure to deliver mind-blowing pleasure every time!
16. Julia+: Full Body Pocket Pussy
Ah, the Julia+ – a revolutionary device that has changed the way we experience pleasure. The Julia+ is a full-body pocket pussy that offers an incredibly realistic and satisfying experience for any user.
The Julia+ goes beyond your traditional pocket pussy by incorporating all of the best features of a real vagina in one device. Its unique design ensures that users can enjoy an incredibly stimulating experience from start to finish. It includes internal ridges and ribs that massage and stimulate your penis with every thrust, as well as an adjustable speed setting for added intensity. The device also comes with multiple vibration settings, allowing you to customize your pleasure even further!
The Julia+ also makes it easy to clean up after use – simply wipe it down with warm water and soap or toy cleaner, then store it away until its next use! Thanks to this device, you can now enjoy all of the benefits of a real vagina at home, without any mess or hassle.
So if you're looking for an incredibly realistic and satisfying experience, look no further than the Julia+. With its amazing features and unbeatable convenience, this pocket pussy is sure to bring pleasure into your life like never before!
17. Realistic Looking Pocket Pussy
When it comes to pleasure, nothing beats the feeling of an incredibly realistic-looking pocket pussy. This type of sex toy is designed to provide users with an incredibly lifelike experience that can rival even the best real-life partners. Thanks to their increasingly innovative design, these pocket pussies look and feel more like the real thing than ever before.
The realistic look of a pocket pussy is achieved through a combination of materials and textures that mimic human skin, along with carefully crafted contours to match the shape and size of your anatomy. Many high-end models feature dual layers for added realism, with an outer layer made from soft silicone or TPE material providing a gentle caress against your skin while an inner core offers additional stimulation.
These toys are usually designed in such a way as to replicate the sensation and pleasure you would get from actual intercourse, making them perfect for those who don't have access to regular sexual partners or are simply looking for something different. From ribbed inner cores to external features like clitoral stimulators and vibrating bullets, there's something out there for everyone.
However, if you're looking for something extra special then why not try out one of today's high tech offerings? These often come equipped with advanced technology such as heating elements, remote control functions and even interactive apps that allow you to customize your experience further.
No matter what level of realism you're after, there's sure to be a pocket pussy out there that will meet your needs perfectly!
21. PDX Elite Air-Tight Pussy Stroker
The PDX Elite Air-Tight Pussy Stroker is the ultimate pleasure toy for anyone looking to add a little extra excitement to their sex life. This stroker offers a unique blend of stimulation and sensation, combining the tightness and intense sensations of an airtight vagina with the realistic feel of a soft, flesh-like material. The inner lining features special ridges and nubs that provide enhanced pleasure points as you thrust into it.
The outter sleeve is made from an ultra-smooth silicone material that warms up quickly with your body heat providing maximum comfort during use. Plus, its discreet design makes it easy to store or transport in any bag or pocket.
Whether you're looking for a solo adventure or something to share with your partner, the PDX Elite Air-Tight Pussy Stroker will take your pleasure to new heights! With its lifelike feel and intense vibrations, this stroker will have you coming back for more! So why wait? Get ready for some seriously amazing orgasms with this incredible stroker today!
What is a fake pussy?
A fake pussy, or artificial vagina as it is more commonly known, is a sex toy designed to provide its users with the sensation of penetrative intercourse. It typically consists of an outer shell that replicates the shape and texture of a real vagina, and contains an inner sleeve lined with ridges, bumps, or other stimulating textures. The user then inserts their penis into the device and thrusts against it to experience pleasurable stimulation.
Fake pussies come in a variety of shapes and sizes to suit different preferences. Some offer tightness control mechanisms which allow users to adjust the level of snugness around their penis for added pleasure. Meanwhile, others are designed for use with lubricants, such as water-based or silicone-based lubes, for increased stimulation during use.
Fake pussies can be used by both men and women alike as part of solo masturbation sessions or couples play. They are also ideal for those who are looking to increase their sexual stamina since they provide a more interactive experience than traditional hand-held masturbators do.
In conclusion, fake pussies are great for those who want to add some extra spice to their bedroom activities without having to worry about any potential risks associated with sexual contact. Whether you're looking for something new and exciting or just want a way to enjoy solo pleasure without having to commit long term – fake pussies may be just what you need!
What are the main features of a fake pussy?
Fake pussies come in many shapes and sizes, but all of them generally aim to provide the same experience as a real one. The most common features that fake pussies offer are:
1. Realistic Look & Feel – Fake pussies are designed to look and feel as close to the real thing as possible. They can be made from silicone or PU leather, and often feature realistic-looking textures, colors, and designs.
2. Vibration & Stimulation – Many fake pussies also have vibration settings so you can customize your pleasure even further. This can include vibrations at different speeds and patterns for added intensity during use. It also helps create a more lifelike experience by simulating actual thrusting motions of a real partner.
3. Internal Stimulation – Some models feature internal stimulation mechanisms that can help simulate the feeling of being penetrated by a real penis or dildo. This can come in the form of ribbed surfaces or rotating beads that provide an extra layer of sensation when used with lubricants or other forms of stimulation such as oral sex or finger play.
4. Adjustable Tightness – Fake pussies usually have adjustable tightness settings which allow you to customize your experience depending on how tight you want it to be during use. This is great for those who like their pleasure tailored exactly how they want it, whether they're looking for something more intense or something more gentle and sensual in nature.
Ultimately, fake pussies provide an excellent way to explore your own sexual desires without having to worry about safety risks associated with unprotected sex with a partner, making them an incredibly popular choice among men (and women!) who are looking for ways to spice up their solo playtime!
What are the benefits of using a fake pussy?
Fake vaginas, also known as pocket pussies or artificial vaginas, are a great way for people to enjoy the sensation of sexual pleasure without needing a partner. Fake vaginas come in many shapes and sizes and can be used by both men and women.
The most obvious benefit is that fake pussies provide a safe and private way to experience sexual pleasure. With an artificial vagina, you don't have to worry about any of the risks associated with having sex with an actual partner. You won't have to worry about any potential diseases being transmitted or pregnancy occurring. Plus, there's no need for expensive birth control methods or condoms that can interfere with the sensations of sex.
Another advantage of using a fake vagina is that it can help those who have difficulty achieving orgasm due to psychological issues or physical difficulties such as erectile dysfunction. Fake vaginas offer users a more realistic experience by providing varying levels of stimulation based on the type chosen, allowing them to experiment with different techniques until they find what works best for them.
Some people may be concerned about hygiene when it comes to using a fake pussy but there's no need to worry – these devices are generally made from materials which are easy to clean and maintain. Most models come with cleaning instructions or even specific cleaning kits so you can keep your device sanitary and hygienic at all times. This ensures that you're able to enjoy your experience without any worries regarding bacteria build up or other health risks.
Ultimately, using a faux vagina offers users the opportunity to explore their sexuality in private while avoiding some of the risks associated with partnering up with another person for sexual gratification. Whether you're looking for something discreet and low-maintenance or something more elaborate which allows you to customize your experience, there's sure to be an artificial vagina out there just right for your needs!
What materials are fake pussies made of?
Fake pussies, also known as artificial vaginas, are sex toys used to simulate the experience of penetrative sexual intercourse. They come in many different shapes and sizes, but most commonly resemble a realistic vagina or anus. Fake pussies are typically made from a variety of materials including silicone, rubber, plastic, and even some with lifelike skin-like textures. Silicone is the most popular material for fake pussies because it is soft and nonporous which makes it easy to clean. Rubber is often used for its durability and affordability while plastic is generally the least expensive option. Some fake pussies even feature realistic features such as ridges and bumps that make them look like a real vagina or anus. No matter what material they are made from, all fake pussies provide an enjoyable experience when used properly with plenty of lubrication.
How does the texture of a fake pussy feel?
When it comes to sex toys, the texture of a fake pussy can vary greatly depending on which one you choose. Generally speaking, fake pussies are made from a variety of materials including silicone, rubber, and even some more advanced materials like Cyberskin. Each material has its own unique feel that can create different sensations when used.
Silicone is often considered to be the most realistic feeling material when it comes to fake pussies as it has a soft and supple feel that mimics the natural textures found in real human skin. It can also be heated up or cooled down for extra sensation play. Rubber is another popular choice as it is firm yet still flexible enough to provide adequate stimulation. Plus, it's easy to clean and maintain.
Cyberskin is an advanced material that many people find very enjoyable when used with a fake pussy due to its ultra-softness and ability to mimic real skin-to-skin contact. There are even some models that feature heating elements inside so they can replicate body heat during use!
No matter which type of material you choose for your fake pussy, know that you'll have plenty of options available so you can find one that suits your needs and desires perfectly!
What is the difference between a pocket pussy and a regular fake pussy?
A pocket pussy, also known as a stroker or artificial vagina, is a simulated sex toy designed to emulate the feeling of penetrative sex. It usually consists of an internal sleeve-like structure made from a soft material such as silicone or TPR that contains one or more small "toys" – like beads, ridges and other textures – to stimulate the user's penis. Unlike regular fake pussies, pocket pussies are designed to be small and portable and can be used anytime, anywhere.
Pocket pussies are great for those who enjoy solo play but don't have access to a partner or real vagina. They offer both visual and tactile stimulation that can be customized depending on your preferences. The materials used in the construction of pocket pussies can range from simple plastic to high-grade silicone which provides a realistic feel and sensation with every stroke. And since they come in various sizes, shapes, colors and textures – you can easily find one that meets your needs best!
The biggest difference between pocket pussies and regular fake pussies is the portability factor. A pocket pussy is much smaller than its counterparts making it easy to carry around without having to worry about being seen with a large artificial device. Additionally, these types of toys are typically easier to use since they come preassembled with most components integrated into the product itself so you won't have any difficulty getting started with it right away!
Overall, if you're looking for an intimate experience without having to involve another person – then investing in a pocket pussy might just be your best bet!
How do you clean a fake pussy?
Fake pussies are a popular sex toy for both men and women, and just like any other sex toy, they need to be cleaned after each use. Fortunately, cleaning a fake pussy is fairly straightforward and simple.
First off, it's important to note that if you're using your fake pussy with a partner or multiple partners, it should be cleaned between each use. This will help prevent the spread of bacteria and other unwanted microbes, as well as prevent any potential infections or diseases from being passed on.
To begin the cleaning process, start by rinsing the fake pussy with warm water. This will help to remove any bodily fluids or lube residue that has been left behind. Once this is done, use an anti-bacterial soap and gently scrub the inside and outside of the toy until all traces of dirt have been removed. Make sure to take extra care around any seams or crevices to ensure that no germs are left behind.
Once you've finished scrubbing the toy, rinse it off again with warm water before drying it thoroughly with a clean towel or cloth. Be sure not to leave any moisture in crevices or seams as this could cause mold growth over time. Lastly, store your fake pussy in a dry location away from direct sunlight or high temperatures that could damage it over time.
Following these steps should keep your fake pussy clean and safe for use between each session!
What are some popular fake pussy models?
Fake pussy models are becoming increasingly popular as a way to explore sexual pleasure without the risk of pregnancy or sexually transmitted infections. Fake pussies come in many shapes and sizes, from realistic silicone models to more abstract designs that focus on texture, vibration and other features.
Realistic silicone models tend to be the most popular because they are designed to look and feel like a real vagina, with life-like textures and details for maximum stimulation. The inner walls of these models are often ribbed for enhanced pleasure, while some feature removable sleeves for easier cleaning. Some even have suction functions that create a sensation similar to oral sex.
Other abstract fake pussy models use unique materials such as jelly or foam to provide varying sensations during use. These models typically don't look like real vaginas but rather focus on providing different internal textures and shapes that can increase arousal and satisfaction. Some also feature suction functions or vibrating motors that provide extra stimulation during use.
No matter what type of fake pussy model you choose, it is important to practice safe sex by using condoms or other barriers when engaging in any kind of sexual activity with these toys. Make sure you read all instructions carefully before using your toy so you know how to properly handle it for maximum enjoyment!
What lubricants are best to use with a fake pussy?
The use of lubricants with a fake pussy is an important consideration to ensure the best experience possible. While there are many different types of lubricants available on the market, not all of them are suitable for use with a fake pussy. Generally speaking, water-based lubes are considered to be the safest and most compatible option, since they don't have any ingredients that may cause irritation or damage to the material of your toy. It's also important to consider which type of material your fake pussy is made from – some materials like silicone can react badly to oil-based lubes and degrade over time if used too often.
When it comes down to it, everyone has their own preference when it comes to using a particular brand or type of lube with their sex toys; however, there are some general guidelines that can help you make the right choice for your needs. Ideally, you want something that won't irritate your skin or degrade over time, as well as being easy to clean off afterwards. Water-based lubes tend to be the most popular option for this reason – they provide adequate lubrication without leaving any sticky residue behind. Additionally, certain brands may also offer special formulations designed specifically for use with sex toys – these can be great options if you're looking for something tailored to your needs.
Ultimately, choosing which lube is best for you and your fake pussy will come down trial-and-error – experimentation is key! With more information about what each type of lube offers and how they interact with various materials, you should have no problem finding one that works best for you and your toy!